Who is the next top scorer of Africa in the Cup of Nations, Bony, Gyan, Aubameyang?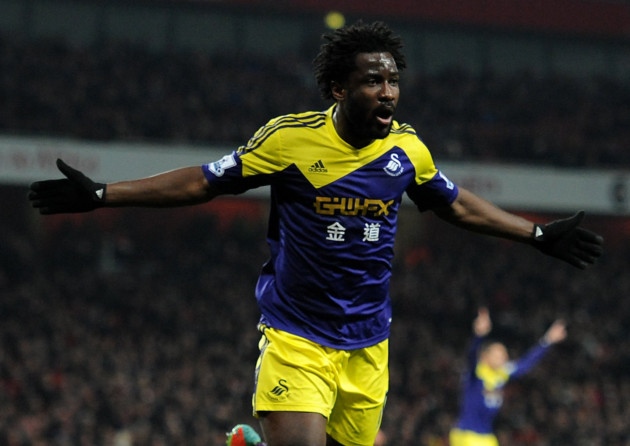 There are various names that are believed to fight for the competition with a blast. Specifically, the players are Aubameyang, Bony, and Gyan. All of them are highly equipped with skills and abilities on the field. There's no wonder that they already created a noise on the previous games. With the emerging teams, many challengers will strive to obtain victory. Even a talented player should not be too confident about himself. Having the common goal for putting their team on top, it is quite exciting to witness the ultimate battle.
After Samuel Eto'o and Didier Drogba have retired from playing football, it became hard to determine one suitable name for "Africa's top striker". The question lies on a perfect successor who can sustain the reputation of Africa in this kind of sports.
For the Ivory Coast, Wilfried Bony is trusted lead Manchester City. In 2014, he had already proven himself when he scored for the Premiere League goals. No player was able to exceed his high scores. From Ghana, Asamoah Gyan is supported by the entire team because of his exceptional game performances. He was hailed as the top scorer in the Asian Champions League. For the current season, there are new faces in the football field. Each member of the crowd has his own favorite player after watching series of competitions.
The top scorers include Yacine Brahimi, Seydou Doumbia, Aumabeyang, Gervinho, and Islam Slimani. Brahimi got four goals, making him the no. 1 scorer. Doumbia, Aubameyang, and Gervinho were next to the list and obtained three goals. With two goals, Slimani is still, included on the list of top scorers. Aside from those names, Ahmed Musa and Vincent Aboubakar are also loved by the football fans due to their evident passion. Nigeria and Musa are among the notable absentees, but with consideration of Quinton Fortune, Wilfried Bony is considered as an outstanding candidate. According to the former star of Bafana Bafana, he was impressed with the exceptional skills of Bony. In addition, Bony was also compared to Tony Yeboah, Ghana's former striker. This man has an adequate source of strength. Bony made himself capable in winning football games and other prestigious competitions. Instead of wasting the opportunities that come to him, Bony maintains his popularity through gaining high scores. He never get tired of improving himself despite of the competencies he already acquired from previous experiences. Most importantly, Bony is a dedicated football player. In fact, he still finds time to have regular routines for the upcoming games. He trains himself more in order to compete with the other challengers.
Aumabeyang is also a recognized player due to his shown excellence during the Cup of Nations. He proved that he has a distinct tactic in football. Lastly, Aboubakar is a young challenger who has great potentials in achieving success in his chosen career. He was able to score 4 in the previous qualifying round. All mentioned players deserve their current position. They invest in desirable qualities to survive all throughout their career.